Author: Ellysa Harris, Plainview Herald
Published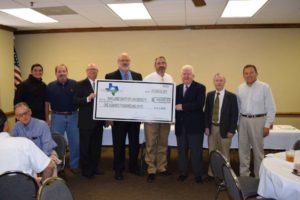 WBU officials were presented with a check by the Hale County-Plainview Economic Development Corporation during the EDC's quarterly meeting Friday. L to R: Kevin Torres, WBU; Ross Owen, EDC; Mike Fox, EDC; Claude Lusk, WBU; Kevin Ludlum, WBU; Mike Melcher, WBU; Kelly Warren, WBU and V. O. Ortega, EDC.
 less
The money will allow the university to revive The Spark – a program originally launched in 2014 after the close of Cargill in 2013 to help entrepreneurs launch a business.
Claud Lusk, with WBU, said the original program was discontinued because of a lack of funding. It lasted about two years.
The program took about one year to develop, wrote Charles Starnes, with WBU, in an email to The Herald.
"The two main purposes of The Spark were to give business and entrepreneurs a sounding board for their idea and to provide consultation to help develop a viable business plan," wrote Starnes.
It's a community resource sponsored by the college but available to anyone, said Kelly Warren, dean of the WBU College of Business.
"It's actually a business accelerator," he said. "We don't do funding types of things like incubators. An accelerator program helps with entrepreneurs to develop a business model to be successful in the market place."
Those who utilize the services are provided with a one-on-one consulting approach to bounce their ideas off of and to help guide the individual through the launch of their venture, Warren said.
According to Starnes, one of the biggest success stories from the program was the expansion of AC Uniforms, which is located at 715 Ash Street.
"Also, there is one pending major industrial project that was initiated through Spark consultation," he wrote.
The program was a community resource open to everyone – not specifically those affiliated with the university, Lusk said.
"The Spark was about spinning businesses into our community to make our community better," he said. Now with economic development projects like the Hale County-Plainview Business Park and the Plainview Property Project coming together, the hope is that The Spark will help generate additional local businesses to eventually occupy some of those business spaces.
During the EDC meeting, it was announced that the grant would be paid out in increments of $20,000 over the course of five years.
Lusk said the program is still in the very early stages of planning. Everything is happening a lot more quickly than anticipated, he mentioned citing that the idea to revive it and ask the EDC for the funding was just recently introduced to the WBU board of directors. It was exciting that the EDC agreed and provided the funding so soon after, he said.
So it's still too soon to know when the program will re-launch or what changes, if any, are going to be introduced this time around.